The password manager Zoho Vault doesn't compete in the same market segment as its consumer-focused rivals. Originally, Zoho created this solution as another piece of its comprehensive business product catalog.
But does this mean you should ignore it as a regular consumer? We don't think so, and this Zoho password manager review will explain why.
Overview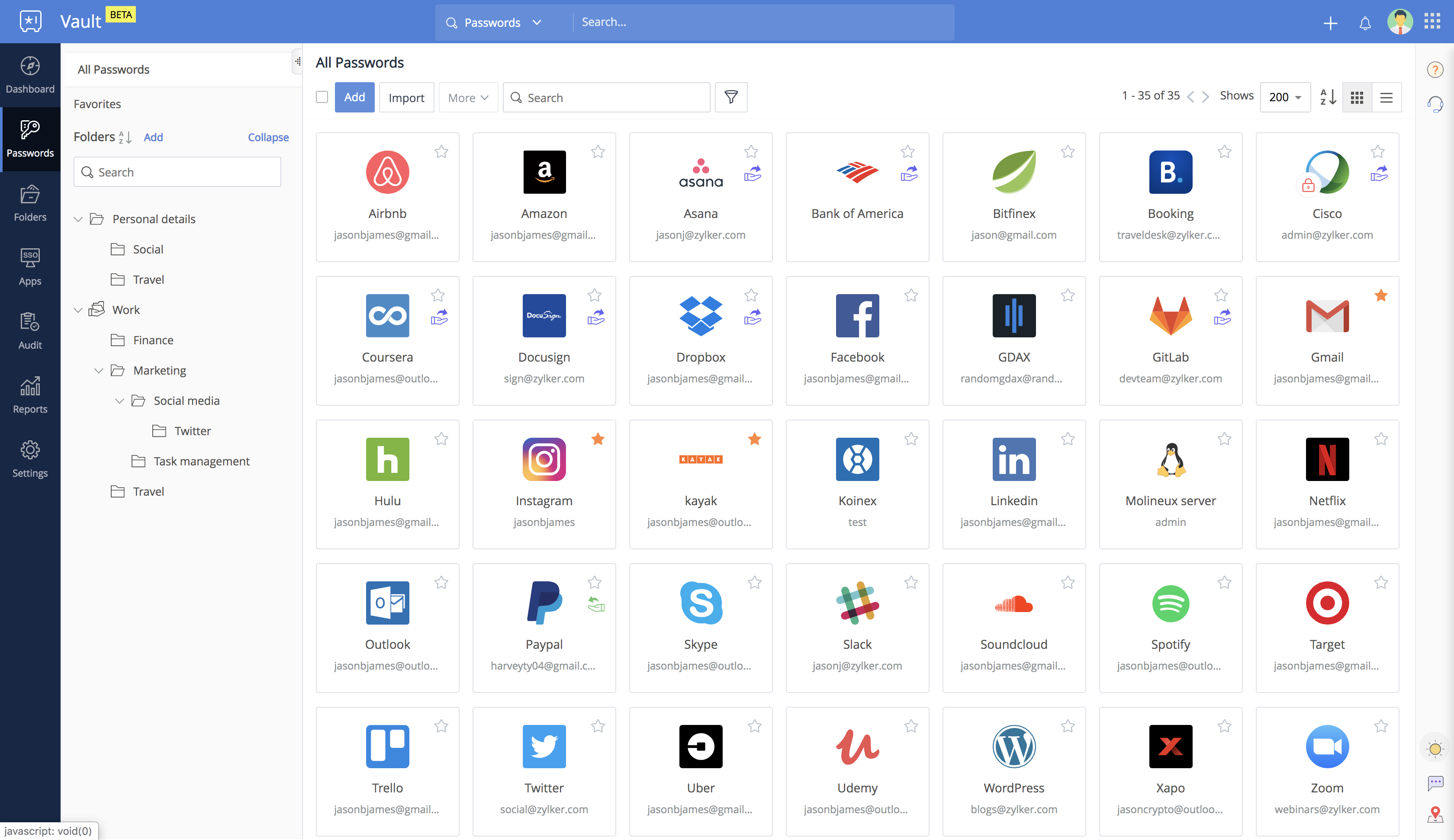 Vault is a cloud-based password management solution mostly focused on professional organizations. It belongs to the Indian business software giant Zoho, which also offers an online office suite and CRM software.
Zoho Vault was introduced in 2013. With its enterprise roots, this service can be integrated deeply into common business tools you're using.
What We Love About Zoho Vault
Full Of Business-Focused Features
Zoho is a well-known product suite among businesses and enterprises. It doesn't come as a surprise that the password manager Zoho Vault offers amazing support for those organizations too.
You can incorporate your Zoho Vault account into your regular workflow with ease. Third-party apps this password manager supports include Microsoft 365, Microsoft Active Directory, Dropbox, and Gmail, among others.
Single Sign-On (SSO) with cloud-based apps like Slack or Salesforce is easy to set up. And if your business has a custom app, Zoho Vault is ready to connect with it too with its APIs.
Total Control And Management
Sharing passwords with granular control is a breeze with the password manager Zoho Vault.
This password manager comes with a great set of password policies, permissions, and user management features. You can separate your personal and professional login information, which you can transfer to members of your team.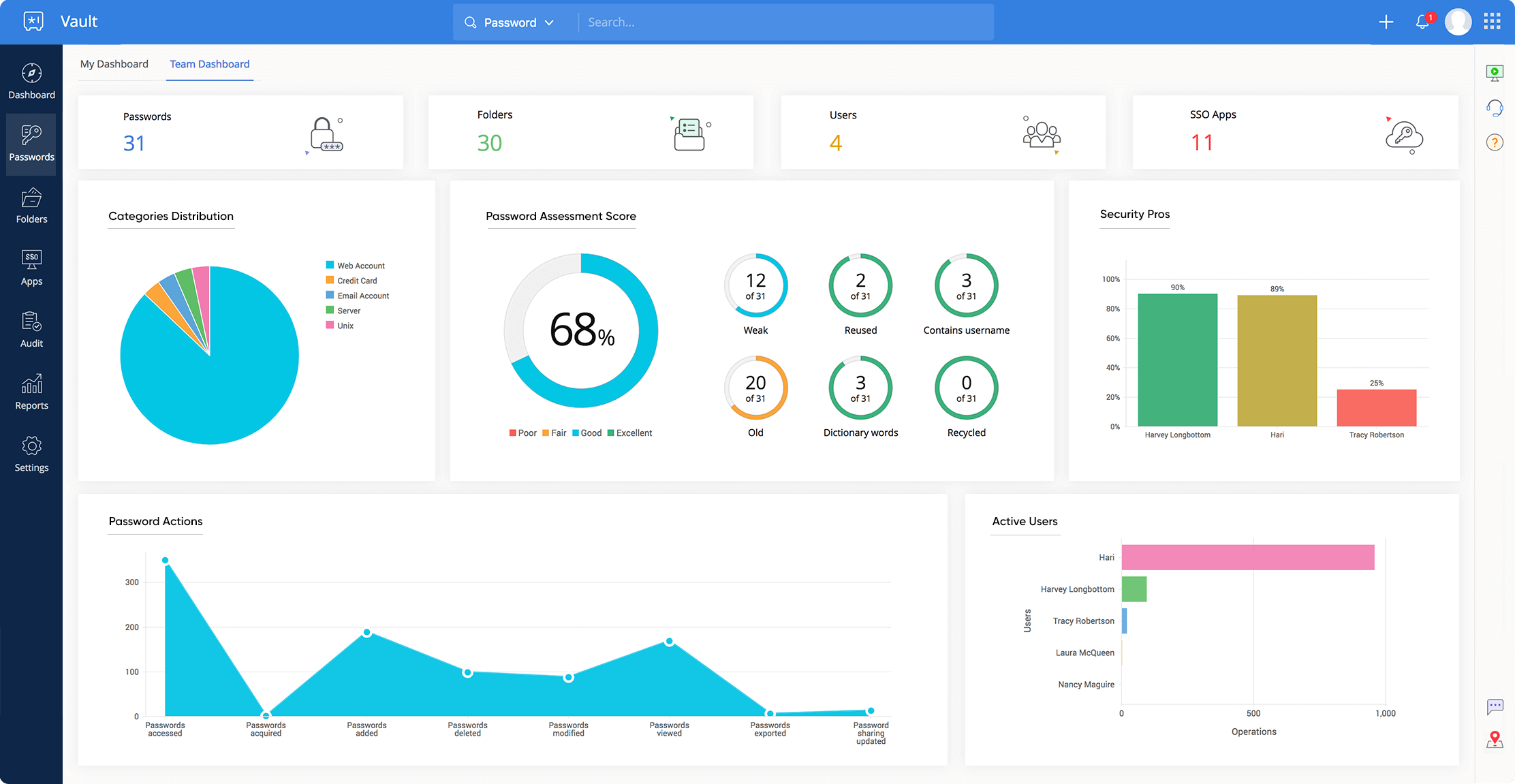 Industry-Standard Security
Zoho Vault encrypts your master password with AES-256 before storing it in its servers. Every encryption action is performed in your browser, which ensures a host-proof hosting model.
Every user of the password manager Zoho Vault is given a pair of RSA public and private keys. When you share passwords with another member, those keys allow your data to be decrypted only by the recipient you've specified.
Several multi-factor authentication modes have been implemented, including the OTP Authenticator, SMS-based OTP, Yubikey, and Touch ID. The Zoho team say they're exploring integrations with Apple Keychain and Windows Hello as well.
Responsive Customer Support
The password manager Zoho Vault provides one of the most impressive support services in the industry.
Customers in several countries, such as the UK, US, India, China, and Australia, can call its phone numbers, most of which are toll-free. Other direct support options include 24/7 email and live chat for global customers.
Additionally, Zoho maintains an intensive library of documents on its software, including Zoho Vault. You can access video tutorials and PDF guides on its website for free.
What We Don't Like About Password Manager Zoho Vault
No Form-Filling
Remember that the password manager Zoho Vault has no implementation for filling web forms. This is a popular function found on almost every leading password manager on the market such as LastPass or 1Password.
While the lack of this feature may be a deal-breaker for many, the good news is Zoho has said form filling is coming to its product soon.
Basic Mobile Apps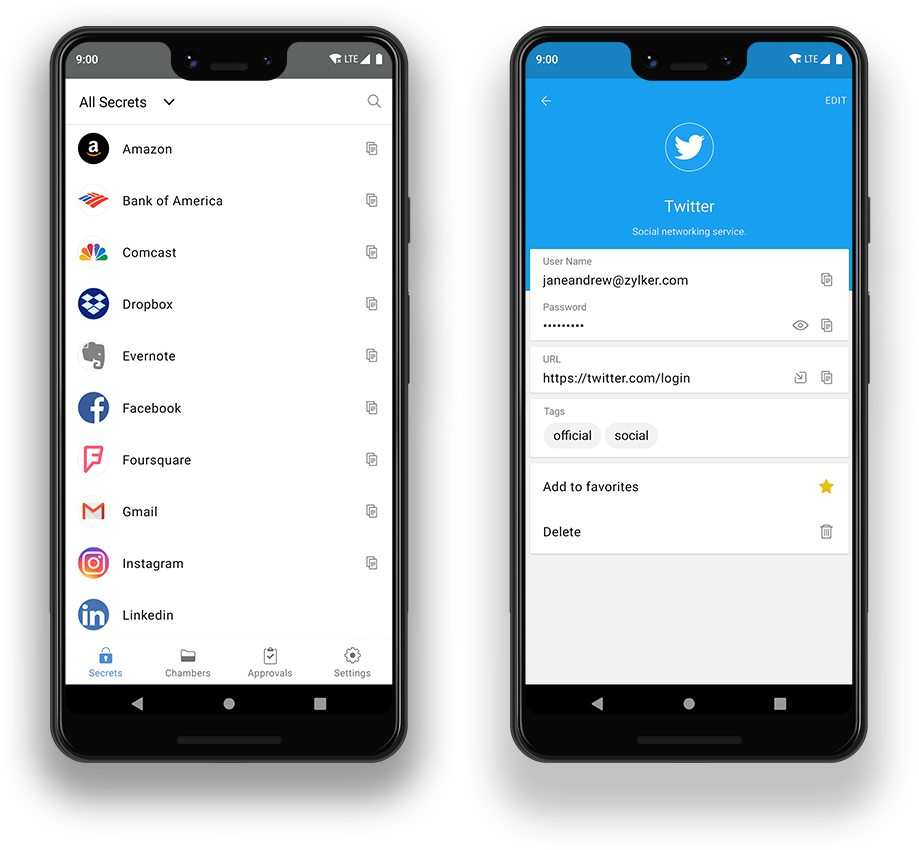 The companion apps on Android and iOS mostly replicate Zoho Vault's web interface. All the core features work and you have the same streamlined design for both platforms.
However, the apps don't run as smoothly as those of other services. They feel rudimentary and not very intuitive.
No Native App
Desktop users can only access their passwords through web browser extensions as Zoho provides no installers for native password management.
This browser-based approach of the password manager Zoho Vault is not everyone's cup of tea. It can be convenient for some, but others may feel dissatisfied with its limitations.
For instance, no biometric login options (such as Touch ID and Windows Hello) are available. If you're already accustomed to them, you'll be bothered by the hassle of repeatedly entering your lengthy master password.
Zoho Vault Vs. Locker
When it comes to the raw number of features, Zoho Vault has the edge over Locker. This software maker has constantly extended the capabilities of its password manager over time.
This impressive feature set makes sense if you are a big enterprise that wants a streamlined solution for the whole organization. On this front, Locker still has many things to catch up on.
However, Locker is a superior choice if you are just a casual user who wants to secure your passwords. The complicated interface of Zoho Vault is a challenge to get used to, not to mention its lack of native app. Meanwhile, the mobile app of Locker is also more polished and user-friendly, which makes password management a breeze even for novice users.
Locker puts more effort into important features for personal use while still having an amazing plan for businesses. Your IT administrators can quickly set up policies for the whole organization, such as roles and permissions for each employee. The intuitive dashboard and activity logs also allow them to monitor and improve password hygiene with minimal effort.
You are less likely to find these features irrelevant as with Zoho Vault. Unless you are seeking a solution with a lot of built-in integrations for your business, Locker is clearly the better option.
Conclusion
The password manager Zoho Vault is more of a solution for teams and enterprises than a product for individuals, who may find it too complex for everyday use.
It comes with superb third-party app integrations, fine control over passwords, and excellent security. The premium subscriptions are affordable, and its customer support really impressed us as well.
But if you can live with no form-filling, the non-business plan is totally free. Zoho Vault's robust core features should work well enough for most people, even for personal use.