The 1Password manager belongs to the first wave of password protection solutions catered to ordinary users. Thanks to them, non-tech savvy users can secure their personal data with minimal effort.
Among those services, 1Password is one of the few that retain a significant growth and investment. Why is it still so popular after all those years? Let's find out.
Overview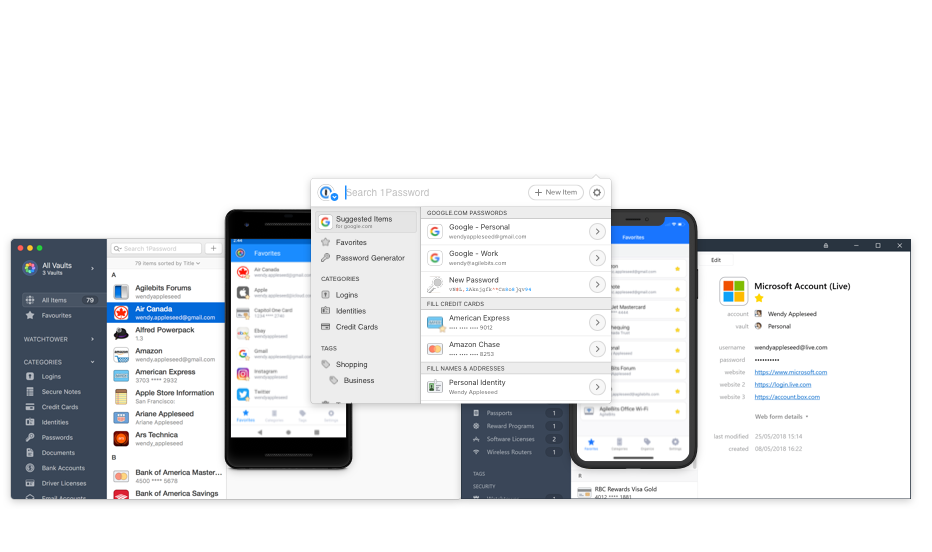 Developed by AgileBits in Canada, 1Password has a huge presence in the security industry.
It was first created in 2005 as a personal tool to save login information for its founders, Roustem Karimov and Dave Teare. Since then, 1Password has been a recommended solution by widely respected tech outlets and experts.
The 1Password manager supports almost every popular platform and has paid plans for both individuals and organizations.
Features Where The 1Password Manager Excels At
Cross-Platform Compatibility
As far as native app support is concerned, 1Password download options are excellent.
It works on all major operating systems, including Windows, macOS, Linux, Chrome OS, iOS, and Android. You can always fall back to the web app or extension, such as the 1password Chrome addon.
Most versions of the official app run smoothly, except for the Chrome OS program. They share the same experience for the most part, and syncing isn't an issue.
The password manager 1password is also one of the few applications that offer a command-line tool. It's a great tool for advanced users who may want to integrate security into their automated workflow.
Password Import
Data migration from an old password manager to 1Password is effortless.
The software supports import from CSV files – a format supported by several password managers. It means you can switch from Dashlane or LastPass with your data intact.
With 1Password for Chrome or Firefox, you can transfer your data from your browser to your 1Password account without additional software.
Password Organization
The 1Password manager allows users to keep their information in multiple vaults. A good way to take advantage of this is separate your personal and work accounts into two different folders. This way, you can access related credentials faster, and your password manager doesn't look like a huge mess as its database grows.
Those vaults work wonders with the sharing feature too. You can quickly set it up and share the whole vault with your family members.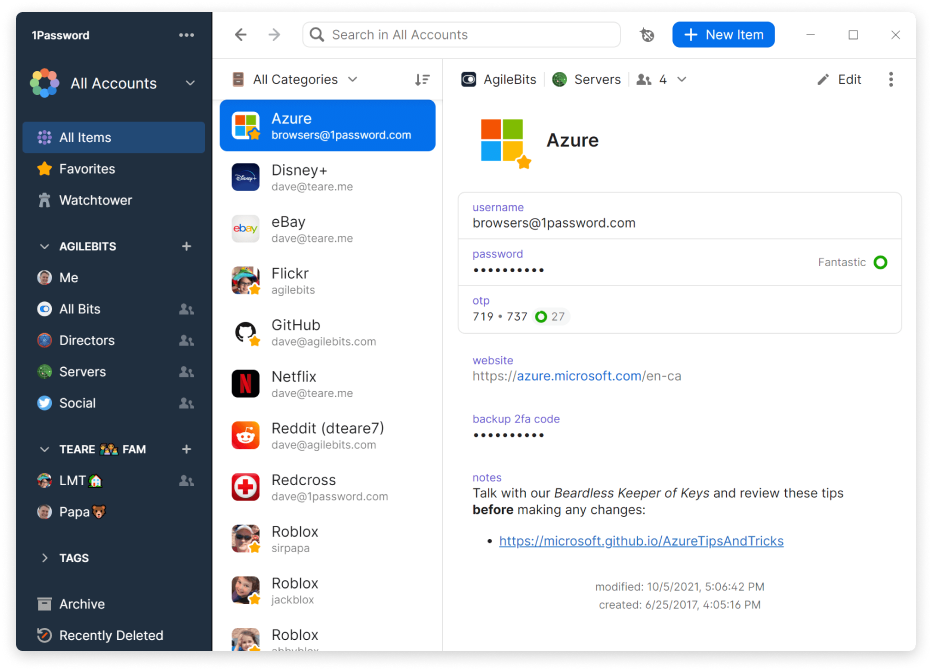 Breach Monitoring
The built-in feature Watchtower can tell you whether your passwords have been compromised. It keeps a close look at publicly available data breaches – the results of successful attacks. You'll be notified as soon as possible when any account of yours is found in them.
A lot of competitors provide this exact functionality, but 1Password's Watchtower also informs you about other important events.
For instance, you will get a notification from 1Password when your driver's license, passports, or credit cards reach their expiration.
Travel Mode
Some border control officers may request access to your smartphone when you enter another country. You can set up which accounts are accessible to them with the 1Password manager's Travel Mode.
Before the trip, you can mark some vaults as safe for travel. When Travel Mode is active, only those vaults stay on your device.
What You May Not Like About Password Manager 1Password
No Free Version
1Password discontinued its support for free-to-use local vaults and moved to a subscription-only service in 2021. There is no free plan with limited functionality either.
The only way you can try out 1Password at no cost is its 14-day trial. But after this period, you will have to pay for a paid plan to keep using it. This limitation really makes the 1Password manager out of the question for those who don't have heavy use and prefer a free solution.
No Chat Or Phone Support
The 1Password team actively responds to customer help requests or feedback on Twitter, community forum, and via email. However, it will fall short of your expectations if you expect live support via chat or phone.
No Password Inheritance
Many solutions offer a feature that automatically transfers information to another predefined user in the event of an emergency or death.
Unfortunately, the 1Password manager doesn't have an implementation of this. There is no way to set up such a mechanism with your 1Password login data.
1Password Vs Locker
As a new player in the market, Locker addresses several long-lasting issues of 1Password.
For starters, there is a free tier, which is non-existent on 1Password. It is usable enough for a fair share of customers who don't want to take out another subscription.
This plan includes up to 100 passwords and has no restrictions on how many devices you can use. Many extra features are available for free too, such as biometric authentication, and advanced 2FA.
Locker's paid plans are ready to rival 1Password on all fronts too. Whichever draws you to 1Password, there is likely an equivalent solution on Locker's premium version.
This upgrade removes the number of passwords you can save and unlocks other advanced features like data breach warning and password sharing.
On top of that, Locker costs even less than 1Password when billed annually. If you are looking for a free or low-cost alternative to 1Password, Locker is the way to go.
Final Thoughts
The 1Password manager is a near-perfect cloud-based solution to save and sync your passwords across devices. Its broad feature range is a huge plus. While no free plan is available, its strong track record is worth the money and deserves your trust.