If you are familiar with password tools, chances are you have heard of password manager Keeper. It is advertised as an affordable yet highly secure tool to manage your logins with multilayered security features.
So is it worth the investment? Let's find out the special features of this manager right here.
What Is Password Manager Keeper?
Keeper is a password manager that helps you store your logins and files securely. It provides extremely useful features such as multi-factor authentication, an encrypted messaging client, a sharing feature, and a detailed password access history.
If you want to manage passwords securely, Keeper is one of the ideal software to consider. You can use a 30-day trial to experience its features before paying money.
Pros
Cons
Apps and extensions that sync with any devicePowerful multi-factor authenticationSecure password sharing feature
Limited free trial
How Safe Is Keeper?
Password manager Keeper uses AES 256-bit encryption to protect your passwords and data. This is also comparable to the level of secure encryption used by all banks and governments, which outsiders cannot compromise.
With a zero-knowledge policy, this password manager ensures that no one has access to your personal data, not even their employees. Overall, all features bring extremely high security for users.
How Much Does A Keeper Package Cost?
As mentioned above, this manager is available for a free 30-day trial on a single device. Users can upgrade from the free version to the paid plan if desired.
The annual plan costs $34.99 for Keeper Unlimited individual subscribers.
Other subscription plans include Plus Bundle and Family. The Plus Bundle costs around $59.47 per year and includes features such as Unlimited and BreachWatch security, as well as 10GB of secure file storage.
On the other hand, the Family plan costs $74.99 per year and includes 5 vaults Keeper Unlimited. Compared to the Family plan, its Family Plus plan adds BreachWatch monitoring for $103.48 per year.
Outstanding Features Of Keeper Password Manager
Digital Vault
Like other password managers, Keeper provides a secure vault for you to store logins, notes, cards, along with identities to fill out forms.
Another intuitive feature is the ability to move items into separate folders to keep your vault well-organized. It will be extremely useful if you have a lot of information to manage.
Password Sharing
Password manager Keeper makes it simple and secure to share passwords. The family plan supports up to 5 users, and each member has unlimited access to their own vault to store passwords.
Simply click the "Share" button and enter the email addresses of the people with whom you want to share access.
In addition, you can sync and share data containing important passwords and personal information between devices. The plan also allows you to manage the files and records of other individuals or groups in the enterprise operation.
Password Generator
Keeper comes with a built-in password generator that generates strong passwords within a single click. The software will automatically save it, so you do not have to remember anything.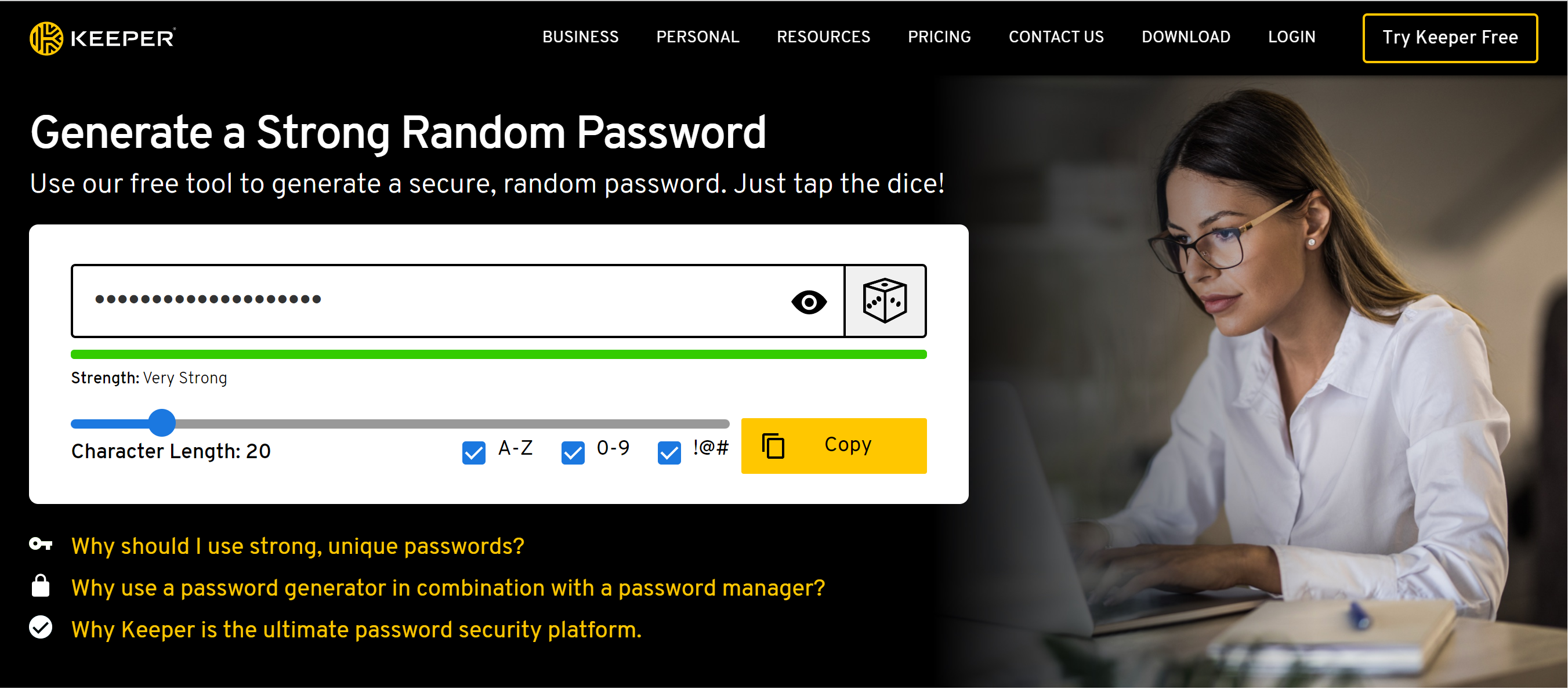 BreachWatch
This feature will notify you if your credentials and potentially sensitive data have been compromised. It will assist you in monitoring dark web and internet activity so that you can take timely measures.
Secure Messaging
KeeperChat gives you control over what you share and who receives it. You can set sensitive messages and files to self-destruct or delete them completely. All photos and videos in the message are also saved in your personal gallery.
Offline Access
You can access the vault even without an Internet connection as it is copied to your local device.
Emergency access
This feature allows users to provide access to up to 5 trusted people to their Keeper vault.
Keeper Vs Locker
Keeper and Locker are both comprehensive solutions for individuals.
They use top-of-the-line encryption and a strict zero-knowledge approach to get the job done. This allows even non-technical users to secure their online accounts with ease.
Each user has their own storage vault for not just passwords but also notes and other credentials. They can access these accounts pretty much from everywhere. Locker and Keeper are compatible with most platforms and browsers, including Android, iOS, and web interfaces.
It is easy to use the basic features, while advanced functions aren't hard to get used to either. Keeper and Locker also place great emphasis on account sharing. You can give your passwords to trusted family members or friends, especially in an emergency.
If there is a big difference, it comes from their offerings in the free plan.
Without a subscription, you can only use Keeper on one mobile device. On the other hand, Locker's free version is much more usable with fewer limitations. You will still need to pay Locker a fee monthly or annually to save as many passwords as you want. But 100 passwords without charge should be good enough for most people.
Additionally, Locker doesn't require a subscription for features like biometric or multi-factor authentication. If you are looking for an excellent free password manager, Locker is the go-to choice.
Frequently Asked Questions
Does Keeper have a self-destruct feature?
Yes, it does. When the user turns on this feature in a vault, after five failed login attempts, the system will delete all the vault's local data.
Does its Autofill guarantee the safety of user information?
It does not disclose any of your personal information to third parties or any unapproved websites. All information is encrypted and is only accessible by logging into Keeper.
Parting Thoughts
Keeper is a great password manager for both individual and business users. Despite the slightly higher price, it offers a bunch of intuitive features that free tools cannot compare.
Thank you for reading, and do not forget to subscribe for more password manager reviews.