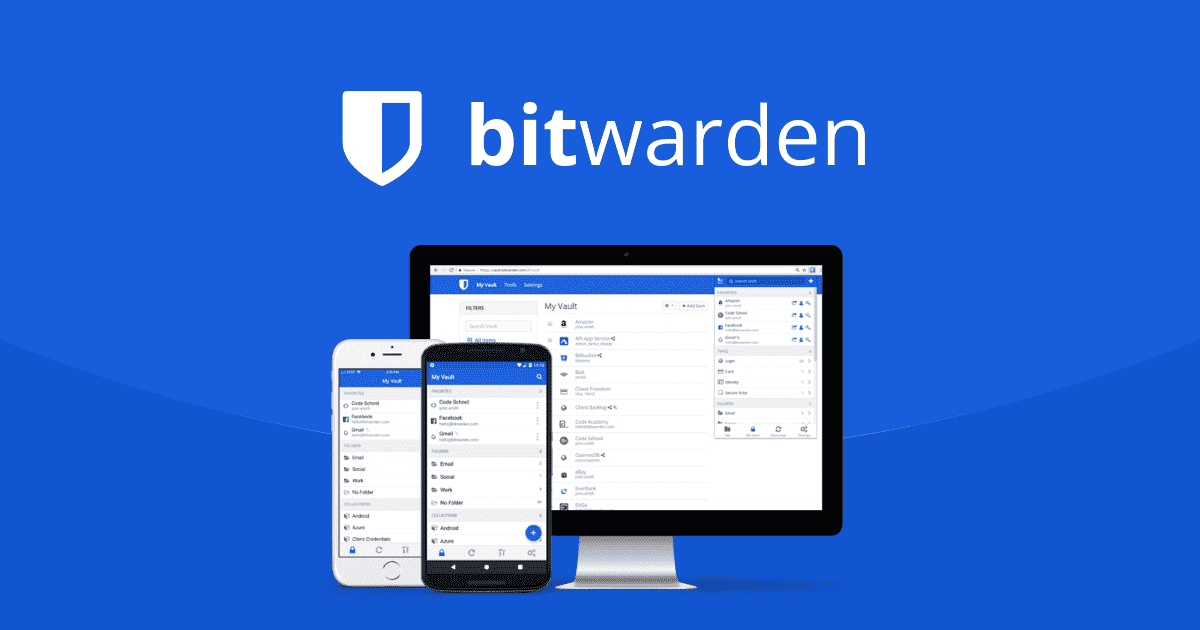 The password manager Bitwarden is a prime example of how a newcomer can gain significant market share and trust from customers. With a unique approach to its development, Bitwarden proves that you can be a solid tool to manage your data without a hefty price tag.
But does it come with any downsides compared to other options? Read on to find out more.
About Bitwarden
Bitwarden is a rising star in the password management market. This free and open-source service debuted in 2016, with only mobile apps and browser extensions supported in the early versions.
But several attractive features have been added by the California-based company to make it a serious competitor against more established players.
Bitwarden is catered to both individual and business users. It's one of the rare (if not only) popular cloud-based password managers you can theoretically check and verify its codebase.
Pros
Open and often audited codebase
Work in all popular browsers and platforms
Offer both free and (inexpensive) paid plans
Support on-premises hosting
Cons
Clunky interface
Limited customer support
What Makes Bitwarden Stand Out
Wide Range Of Security Features
On top of standard password management functions, the password manager Bitwarden comes with a plethora of small features you will never have to trade convenience with security.
Send is a unique way to send information to friends or colleagues, even when they don't use password manager Bitwarden. The feature makes sure only the intended receiver can access your sensitive data on the other end.
Another example is Vault Health Reports, which constantly check if your information has been compromised in known breaches.
Affordable And Flexible Pricing
Many password managers, including Lastpass, have tried to cut costs by putting extreme limitations on their free plans.
Luckily, Bitwarden goes against this trend and offers its core functions free of charge. Most notable features offered in the free plan include unlimited syncing and unlimited vault items.
For advanced features like Emergency Access (which allows you to access your data from a trusted contact), personal users can upgrade to a Premium account with a reasonable fee.
Want to encourage every member of your family to use a password manager? You have the opportunity to choose the Sharing plan. It provides the ability to share items between members in addition to all the bells and whistles of the Premium tier.
Self-Hosting Option
Bitwarden has open-sourced most of its server and client components and officially supports the ability to self-host on the machine of users.
It means you're welcome to go ahead and deploy a copy of Bitwarden to your home or office server. Many customers can benefit from this on-premises hosting, including businesses that want to have complete control over their data.
Amazing Cross-platform Support
Bitwarden can be used in an extensive list of platforms. You can access your items through its web interface, browser extensions, standalone desktop applications, mobile apps, and even command-line interfaces.
Trusted Software
A major advantage of open source software is the possibility to independently examine and make sure it has no malicious functions and serious bugs.
Bitwarden password manager has voluntarily had third-party security firms audit its code base several times.
The findings published after those audits revealed no serious risks for customers. Some minor vulnerabilities uncovered were quickly addressed as a result.
In December 2020, Bitwarden received another assessment confirming its HIPAA compliance. It validated the capabilities of Bitwarden to meet the most data protection requirements in the healthcare industry.
Other notable regulatory compliance includes California Consumer Privacy Act (CCPA), Privacy Shield, and GDPR.
Limitations Of Password Manager Bitwarden
Unintuitive User Interface
If you're seeking a modern password manager with a smooth and intuitive user interface, Bitwarden is going to disappoint you.
The developments seem to have not put much effort into creating a fancy user experience, and it shows. And the result is a very basic and monotonous design.
Beginners may have a hard time getting used to its blue-and-white elements. But if you're a professional who prefers function over form, this simple interface could be your favorite.
Customer Support
As a popular open source project, password manager Bitwarden benefits from strong participation of its community. Its members take part in user-to-user support in community forums, Github, and Reddit.
Bitwarden has also documented the most discussed questions and issues. This knowledge base can come in handy if you don't mind solving the issue yourself with some research.
The downside is, Bitwarden's formal customer support isn't helpful in an emergency. Even to Premium and Business users, there is no phone and online chat support.
Paying customers have to settle with ticket-based support for their billing and technical questions.
Bitwarden Vs. Locker
Bitwarden and Locker are both polished advanced password managers for both individuals and enterprises. They operate on a zero-knowledge encryption approach, meaning even these companies can't access the items saved in your vault.
Bitwarden has a longer track record. This open-source solution allows for on-premise installation – an ideal choice for organizations or even individuals who want to run their own password manager. The free plan of Bitwarden has no restrictions on either the number of passwords or the number of devices.
You can't enjoy those features on Locker's free version. To make up for it, Locker offers a critical advanced feature without a charge: the authenticator. You can use it to generate a temporary secret code to log in to TOTP-supported services. There is no equivalent for this on Bitwarden's free plan.
Users of Locker also don't have to live with one of the biggest complaints about Bitwarden: its user interface. Due to its open-source root, Bitwarden is designed with power users in mind. Its interface is a little outdated and not as polished or smooth as that of Locker. Ordinary users will have a harder time getting used to it than Locker as a result.
Besides that, these password managers have similar premium subscriptions with features like emergency access or data breach reports. And the best part is that those plans are incredibly affordable.
Final Verdict
Bitwarden might not have the most intuitive interface to navigate. This software can also bring a challenging learning curve to those who have never used a password manager before.
But for users who just want to stick to a free or affordable plan, the password manager Bitwarden can do everything they need and more. Click to see more free password managers.