Cloud solutions are dominating the business, but using an offline password manager has unique advantages too.
For privacy-conscious people who don't want to save their passwords on third party servers, it is a perfect idea. Several free options are available, too, if you don't want to be charged for this.
The amazing applications below can help you securely save passwords locally on your devices. Check them out.
Best Offline Password Manager For You
Bitwarden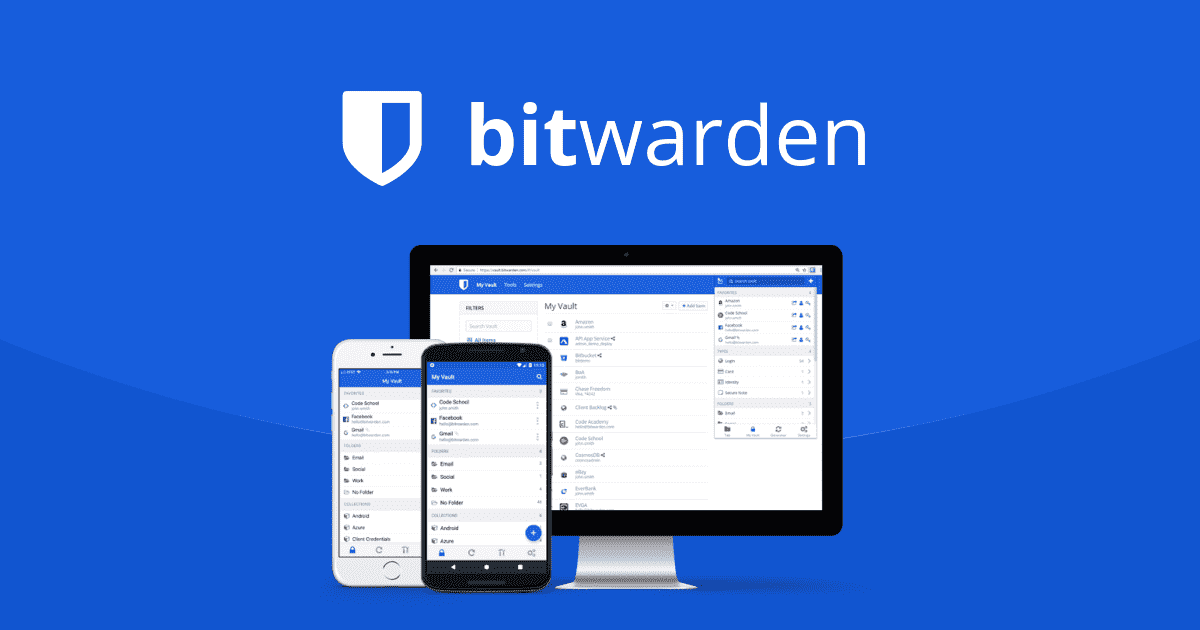 In addition to the cloud-based option, Bitwarden allows users to adopt it as an on-premise solution too. This password manager hardware option is sometimes the option choice many organizations can make.
Anyone can grab a copy of its source code, which is publicly available on Github. It means you can install it on your personal computer or your company's servers. The application will run from there and manage the passwords of your or your organization locally.
The free version requires no license from Bitwarden, and upgrades to paid plans are very cheap too.
For personal use, the free plan is unbeatable. It allows for an unlimited number of vaults and passwords, while syncing has no limitations too. Pay a few dollars a year, and you can unlock advanced features like emergency access from this offline password manager.
The only major gripe is that Bitwarden requires some knowledge of web servers to deploy. But when installed successfully, you can take advantage of the local vault storage option.
RoboForm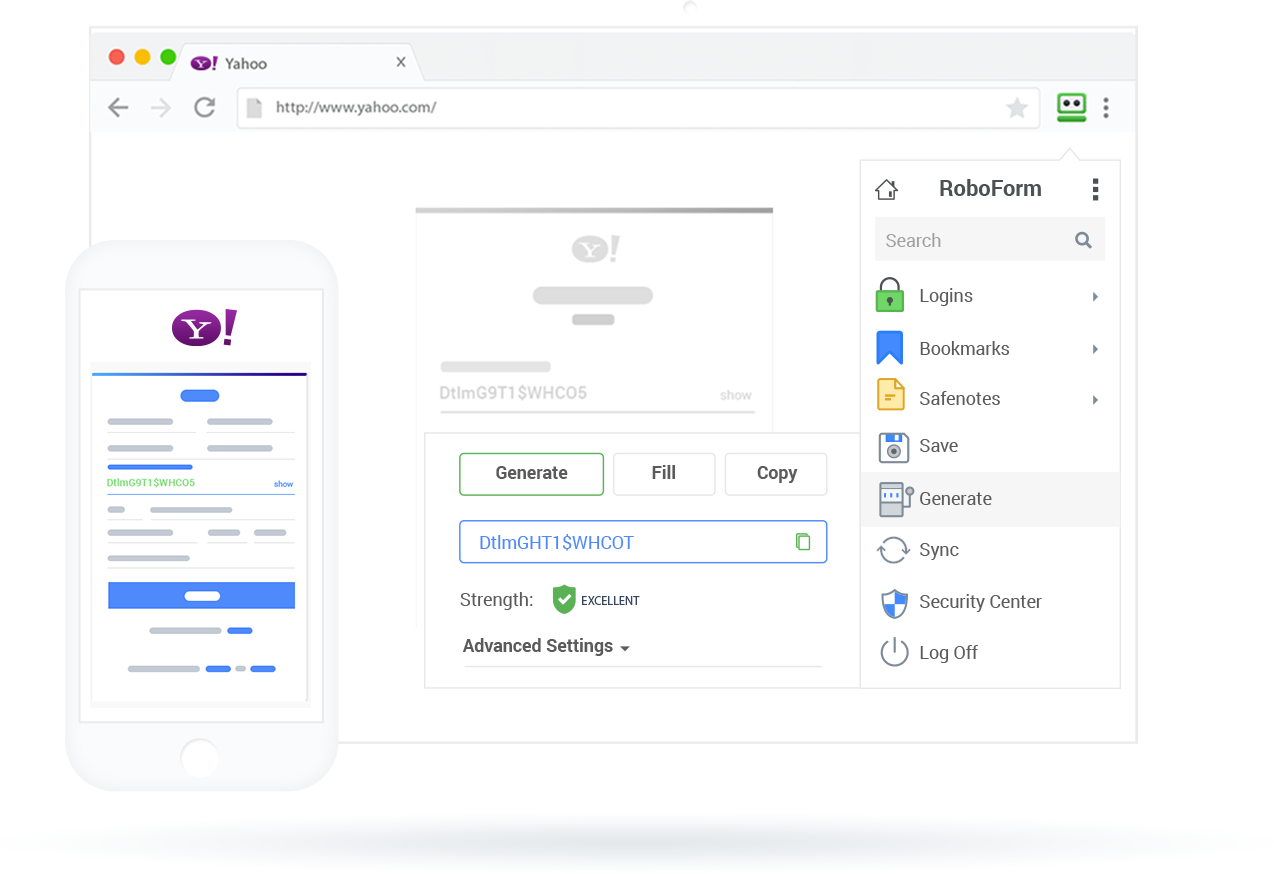 Created in 2000 when offline password management was the norm, RoboForm is an established player in the scene. It comes with a free version that has no limitations on the number of accounts saved.
It works wonders locally on almost every platform too (except Linux). In fact, the free package only allows you to store data on your password manager device. If you are just looking for a local solution, it is no longer a downside.
RoboForm can examine your logins and indicate any duplicated or weak passwords. This offline password manager then can replace them with stronger strings of letters, numbers, and special characters.
Multi-factor authentication is supported and RoboForm's secure storage can protect your notes, contacts, IDs, and credit cards. The paid plan, namely "Everywhere", is affordable, but there is no monthly subscription option.
Enpass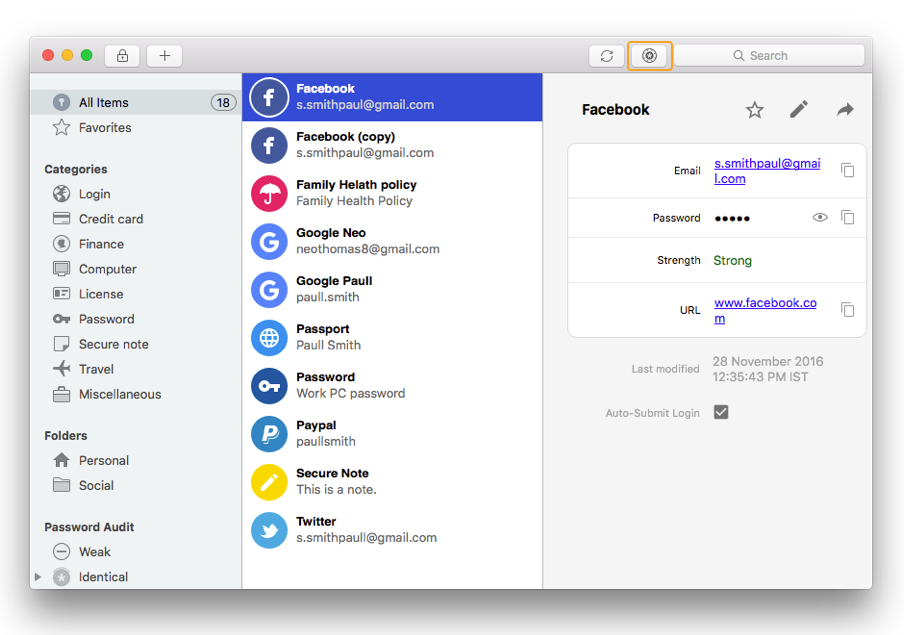 Enpass is designed with no online syncing in mind. Instead, this solution aims to secure your important files and data in one place – your own device.
The desktop apps are quite simple but functional. Enpass' mobile apps, on the other hand, have excellent modern user interfaces. This offline password manager has no free version, but its apps are available on every major operating system.
Enpass has a built-in backup feature to prevent a total loss of your data. It can encrypt the copies of it, which you can transfer to other machines. The data can only be decrypted and opened later if a valid master password is provided.
Even better, the desktop app of Enpass can start a mini file server. This is an ideal solution for syncing your passwords to another device on the same Wi-Fi network.
KeePass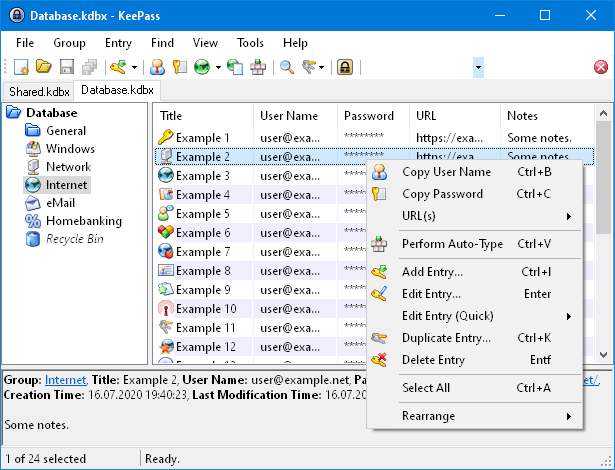 With its first release in 2003, KeePass is one of the most well-known password managers in the open-source community. It is the go-to choice for technical-minded people when they want a straightforward offline solution.
The program is extremely lightweight and doesn't use up a lot of your computer's resources. KeePass allows users to customize their vaults in numerous ways. Several plugins, which expand its capabilities, even more, have been made by contributors.
You can just save the database into a flash drive and put it on your keychain. This password manager USB stick can be carried and used everywhere with you, as long as you can access a computer with KeePass.
Its powerful feature set and amazing customizability have inspired dozens of clones and derivatives. They can all read the KDBX database and support KeePass' core features. Whenever you want to switch to a similar alternative, you will never run out of options.
This offline password manager, however, might not be a good choice for non-tech savvy people. It has a steep learning curve and the interface is quite unintuitive.
KeePassXC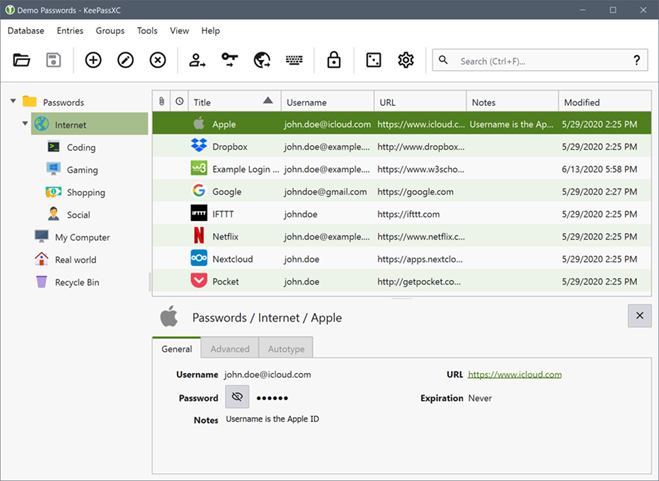 Among those KeePass clones, KeePassXC seems to be the most trusted. It is completely open-source and able to run on macOS, Windows, and Linux.
It has a community-driven nature and has seen active development. This offline password manager has a similar interface to that of KeePass, and you should have no problem switching between them.
You have total control over your data, including where to save it, and auto-filling via plugins is possible too.
Just remember that as the original KeePass, this is a solution that requires ordinary users to give up their convenience. But if its open-source roots and customizability appeal to you, KeePassXC is worth a try.
Conclusion
While they might no longer be the more popular approach, plenty of solutions with local storage are still around.
Getting an offline password manager like that gives you better control over your data. More maintenance is needed, but your important passwords are only stored where you wish to.