In the context that cyberattacks are likely to increase in the future, it is urgent to enhance the security of your online accounts now. The quick and easy way is to install a password manager.
Are you using Samsung, Google Pixel Xiaomi, or any other Android phone to surf the net?
We have gathered a list of the top Password managers for Android devices for you in this post. Let's get moving!
The 5 Best Android Password Managers
#1 Dashlane
One of the most widely-used apps to store passwords is Dashlane. It comes with a good set of features, strong encryption with a secure VPN, and many free options.
One notable feature is the one-click password changer, which allows you to change your password to a stronger one immediately on over 300 compatible websites.
This app also constantly monitors the dark web to notify you if your login credentials are leaked.
Moreover, Dashlane allows you to share 1GB of encrypted storage with other users. By using authentication using two factors (2FA), sharing data is more secure than ever.
However, Dashlane only offers storage of 50 passwords for a free plan. But if you find such storage enough or you can afford the Premium option, Dashlane is still a great tool to consider.
#2 Locker
It is hard to ignore Locker when it comes to the best password managers for Android, even if you can only afford its free version. This is a viable option for many Android users who are looking for a simple yet powerful solution.
A brand-new player in the industry, Locker offers the most sought-after features within a lightweight app. The clean design enables the management of not just passwords but also secret notes and credit cards. Cross-platform sync works seamlessly out of the box when you have another device.
You will need to upgrade to the premium plan (which is affordable) to enjoy unlimited storage. But many advanced features are available at no cost, such as 2FA and form-filling.
Unlocking Locker with fingerprints is a breeze on Android. This allows you to quickly and safely access your accounts, which are encrypted with strong 256-bit standards.
Despite its low cost, the paid plans can match the offerings from the market's leading players. For example, the app comes with data breach scanner that constantly monitors the dark web to inform you of any identity leaks. Secure password sharing and emergency access are other nice features to have.
#3 LastPass
LastPass includes all of the basics that password management software should have.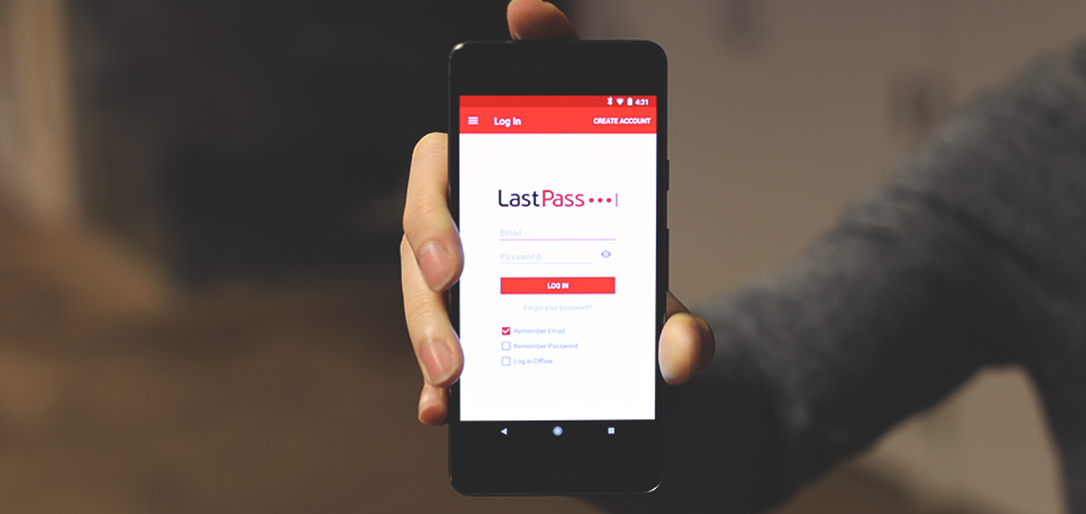 While free Dashlane limits the storage to 50 passwords, LastPass provides you with unlimited storage. It allows you to save an infinite number of passcodes on an unlimited number of mobile or computer devices.
If you forget your master password, you can also recover your account through LastPass vault.
Moreover, LastPass provides you with a password audit and password changer. These two features assist in scanning your weak passwords and resetting them on over 80 websites automatically.
The last main feature of LastPass is OTP support; however, only the Premium version includes support for biometric 2FA and USB tokens.
#4 Keeper
Keeper is quite an old tool; however, it regularly updates with encrypted storage ranging from 10 to 100 GB.
It includes saving and auto-filling features and a generator, along with a few extra niche features for advanced users.
The first niche feature of Keeper is KeeperChat which allows users to send encrypted messages or even images to other KeeperChat users.
Besides KeeperChat, the feature BreachWatch will prevent your information from the dark web and hackers. It will also inform you immediately if there is a data breach.
To strengthen the security, Keeper supports TOTP authenticators, Android's built-in biometric scanning, and USB tokens. The feature KeeperDNA, a built-in 2FA authenticator, is also included.
#5 Bitwarden
The last one on our list is Bitwarden – one of the top open-source password manager apps.
Bitwarden provides you with unlimited storage as well as the ability to self-host passwords and generate new ones. You can run your own password server if you want to host it.
The app also allows users to sync their information across all devices they use to access Bitwarden.
Regarding security, Bitwarden offers AES-256 encryption, salted hashing, and PBKDF2-SHA-256 that help prevent brute force attacks.
How to choose the Best Android Password Managers
There are many password managers for Android devices to consider. They might differ greatly in terms of security, compatibility, features, and so on.
To build our list above, we used the following four criteria:
Security
You should consider apps and software that use the most up-to-date encryption technology, such as 256-bit AES with PBKDF2-HMAC-SHA512, as well as advanced security features like biometric logins and multi-factor authentication.
Adds-on
Besides saving your sensitive data, most tools come with extra features such as generators, secured storage, and data breach monitoring.
Ease of use
Password managers should be simple to use and understand, especially if you are not a tech-savvy user.
Coverage
While some password managers restrict how many entries you can keep, others enable you to store and sync an infinite number of passcodes.
Conclusion
Password managers for Android devices are the quick solutions to manage your sensitive data and improve your security on the Internet.
With our list, we hope you can choose the best one for your Android phone. Thank you for reading, and do not forget to subscribe for more new posts!